Here at Icon Dental our office offers a variety of services to assess all your dental needs. We now also have a Play Room equipped with toys and books for the children to enjoy during their visits. See below for a brief explanation of each service or ask our staff – we'll be happy to answer any questions.
Invisalign
Invisalign is the latest technique in straightening your teeth without braces. 3D technology is used to create clear aligners that are custom made to fit your teeth. you wear each set of clear trays for about two weeks and come in for a short office visit about every six weeks. The treatment time is about the same as braces but much more convenient for active adults and teens because it is clear and removable.
Digital Radiography
Digital Radiography is a form of x-ray imaging, where digital X-ray sensors are used instead of traditional photographic film. Advantages include time efficiency through bypassing chemical processing and the ability to digitally transfer and enhance images. Also less radiation can be used to produce an image of similar contrast to conventional radiography. the digital sensors are much more sensitive to radiation then conventional x ray film and thus require 50% to 90% less radiation in order to acquire an image.


Utilization of Hydrophilic Surface for Dental Implants
Utilization of Hydrophilic Surface for Implants = faster healing process for the patient as well as having optimal results. It is the process of making the dental implant surface from Hydrophobic to Hydrophilic.
Dental CBCT Scan
Dental cone beam computed tomography (CBCT) can be used in situations where regular dental or facial x-rays are not sufficient. However, they are not used routinely because of radiation exposure. A dental CBCT is not used routinely but has lower radiation exposure compared to concentional CT's. This type of x-ray can be used to produce three dimensional (3-D) images of your teeth, soft tissue, nerve pathways and bone in a single scan. These high quality images also allow more precise treatment planning.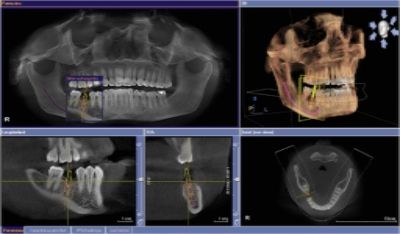 Intraoral Camera
Patient education is one of the best ways to help you keep your teeth and gums healthy for a lifetime. Using an Intra oral Camera, we are able to take up-close photos of your teeth and gums and display these images on our TV monitors. When you see inside your own mouth, it is easier to understand the need for any proposed treatment
Oral sedation for adults and children
Oral sedation is a management technique that utilizes oral medications and sometimes nitrous oxide (laughing gas) to create a state of conscious sedation (relaxation and at times unawareness). This technique is advantageous for patients that have mild anxiety and fear. This technique may be used for children depending upon the behavior of the child.
Implants
A dental implant is an option to replace a missing tooth. In this procedure, a small titanium shaft is surgically implanted into the bone and allowed to set. The bone grows around it forming a tight connection, which additionally slows or stops the bone loss that occurs when the root of a natural tooth is missing. Once the implant is firmly set in the mouth, the dentist then works to attach the replacement tooth onto the top of the shaft. This permanent solution has the advantages over bridge work that it does not stress the surrounding teeth for support, and, should the tooth wear out, another can simply be replaced on the shaft.
Implants can also be used as support as part of an implant bridge. This is an alternative to partial dentures, and has several advantages. First, there is no adjustment period to acclimatize the patient who, once the work is done, only feels teeth, not metal supports intruding into the mouth. Second, this slows the bone loss occasioned by missing teeth. Third, there is no discomfort or difficulty in eating. And, best of all, of course, they don't have to be taken out all the time
For more information on dental implants visit our dental implant website icondentalimplants.com
Peri- implantitis
Failing implants for Peri- Implantitis is the destructive inflammatory process affecting the soft and hard tissues surrounding dental implants. Treatment for peri- implantitis is the process of removing dead tissue, antibiotics and improve dental Hygiene. This may include mouthwashes and washing with Chlorhexidine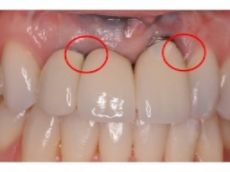 PRF
Also known as Platelet- rich fibrin, is a second- generation PRP that helps accelerates the healing of soft and hard tissue and is used as a tissue-engineering scaffold for endodontics. PRF can also be used in other procedures such as socket preservations, sinus lifts, and guided bone and tissue regeneration.
TMJ Disorder, Snoring & Sleep Apnea Solutions
TMJ disorder is a condition in which the jaw joint does not function correctly. This may cause pain ranging in severity. Frequently, pain radiates to the ears, face, head, neck, and shoulders. TMD may cause facial asymmetry, bite problems and sleeping disorders. Dr. Feras has acquired the intense and special education and training needed to help his patients. This includes the reading of MRI, Bite Mastery, Equilibration, and Splint Therapy.
Snoring can be a warning sign to a serious health problem where the air way closes during sleep. The tongue plays a major role in Obstructive Sleep Apnea (OSA) because the tongue has a tendency to relapse into the airway when sleeping. Dr. Feras is a consultant to the Kaweah Delta Sleep Center, which is the only accredited center in central California. To determine if you're a sleep appliance candidate contact our office for a consultation with Dr. Feras.